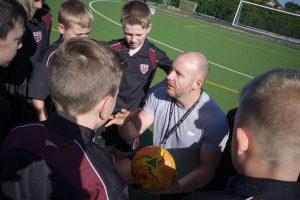 KS3 CORE PE – Intention statement:
For all students to have the opportunity to find a 'sport for everyone'.
Value
To develop a sense of worth through physical activity.
To be able to display the key qualities of fair play, respect and resilience.
To understand and learn further through global sports.
Opportunities
To access a range of different sports and activities in a competitive and recreational environment
To be involved in regular opportunities beyond the formal curriculum to be healthy and active
To follow an examination pathway to pursue fur her learning and career in sport.
Yourself
To experience the benefits through regular physical activity to improve social and emotional wellbeing.
To make progress in a range of sport and activities by understanding skills in detail.
To develop physical literacy for all students.
To develop life skills of communication, teamwork and cooperation within sport.
Access of Knowledge
To appreciate the diversity of sport and chances to follow a pathway within it.
To provide a clear and coherent pathway in participation that's varied each year.
To learn to perform better through failure.
To develop the range of responsibility sport offers.
ESSENTIAL SKILLS TO DEVELOP

Subject Specific Skills

Analysis and review performance

Evaluating and improving

Developing skills and performance

Accurately replicate a skill

Making and applying decisions

Making informed choice on healthy lifestyle

Supportive Learning Skills or Attributes

Resilience

Creativity

Working with others

Problem solving

Communication

Self-awareness
Years 7, 8 & 9: KS3 pupils have two hours of Physical Education each week. All Students in year 7 and 8 cover the following schemes of work; Multi Skills, Invasion games, Dance, Net and Wall Games, Outdoor Adventurous Activities, Gymnastics and trampolining, Health and Exercise, Athletics and Striking and Fielding.
Pupils through these activities will build on and embed the physical skills learned in at primary school. They will become more competent, confident and expert in their techniques, and apply them across different sports and physical activities. They will understand what makes a performance effective and how to apply these principles to their own and others' work. They will develop the confidence and interest to get involved in exercise, sports and activities out of school and understand and apply the long-term health benefits of physical activity.